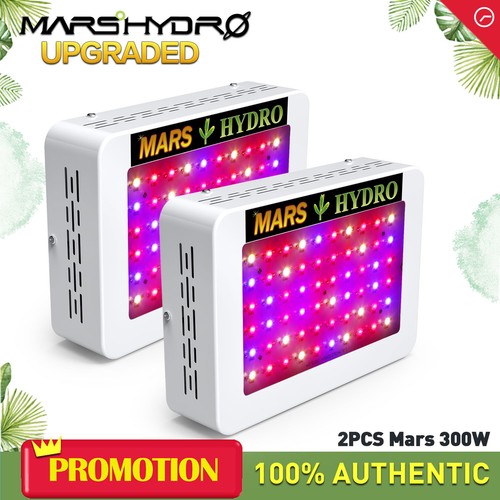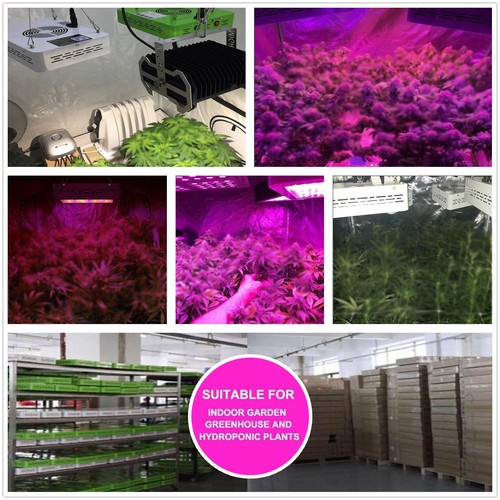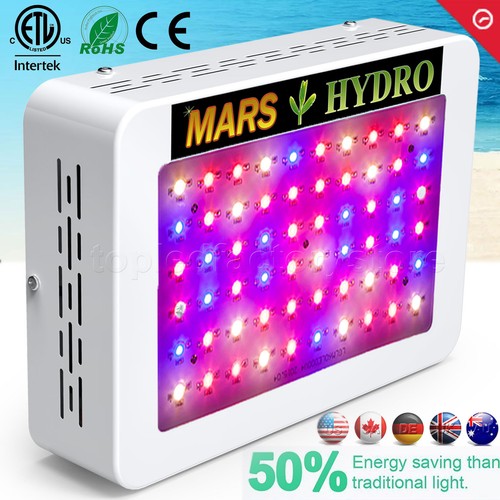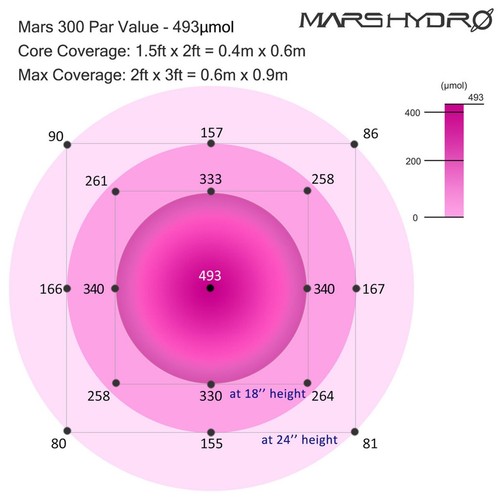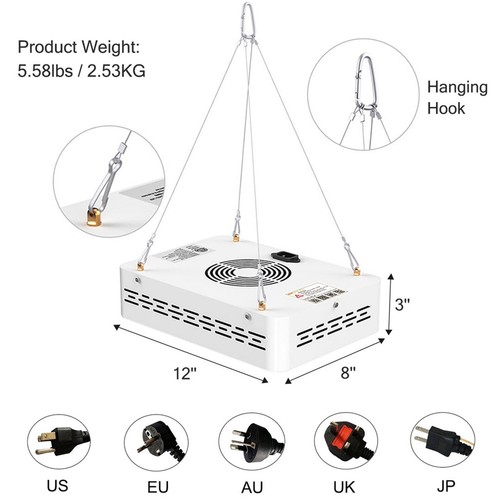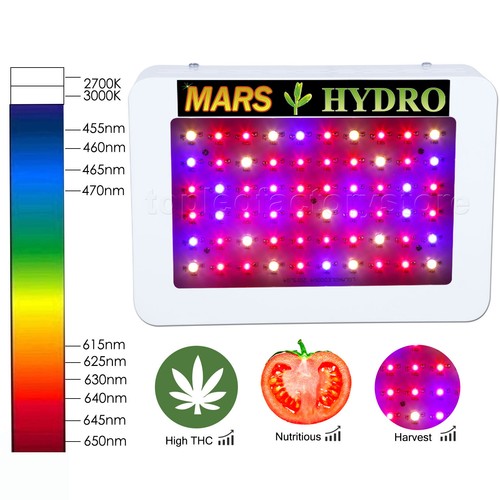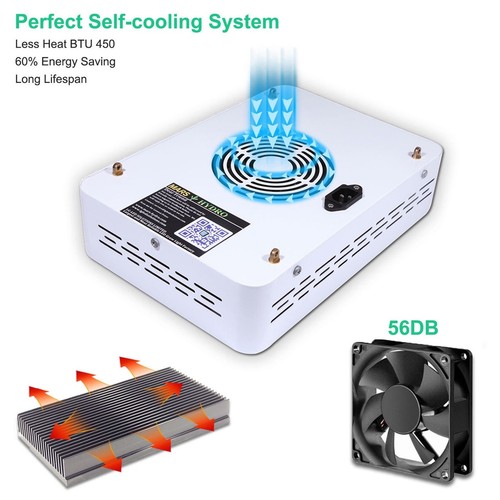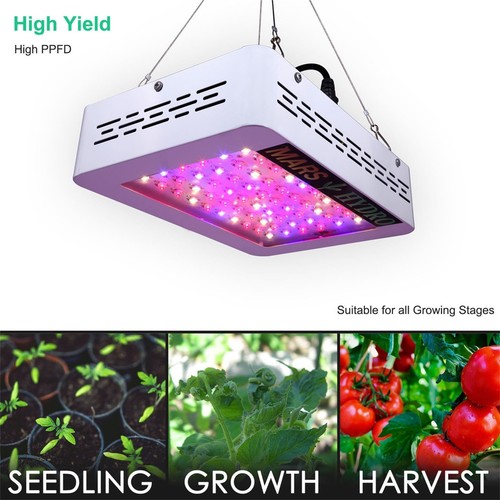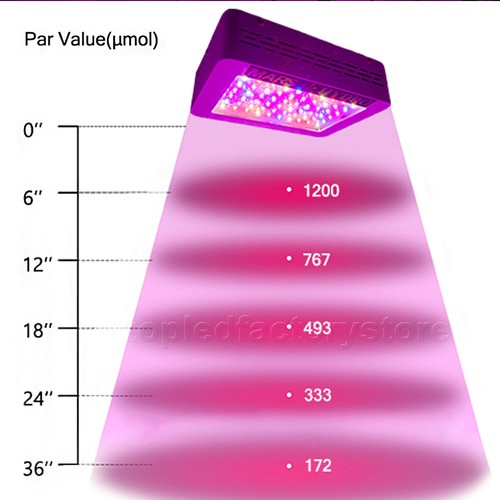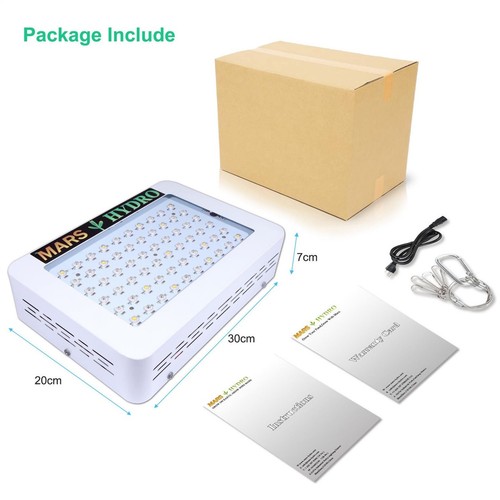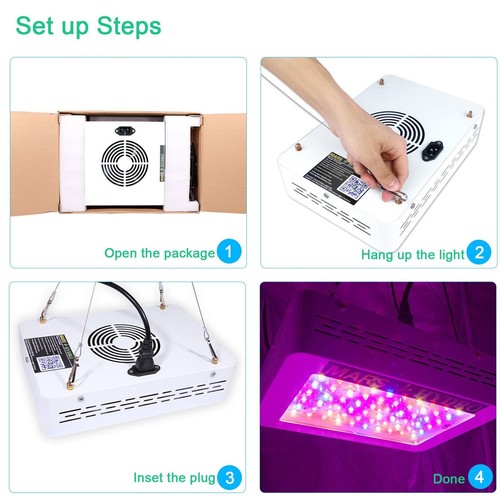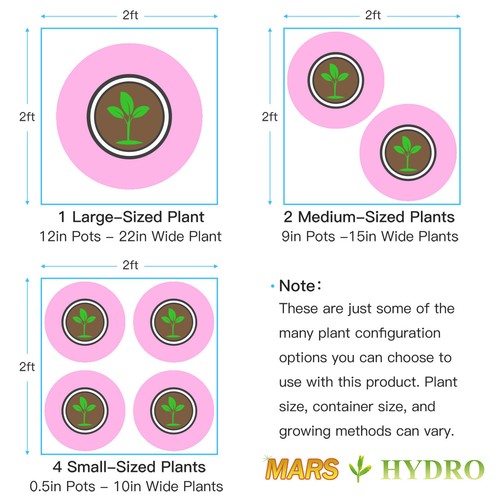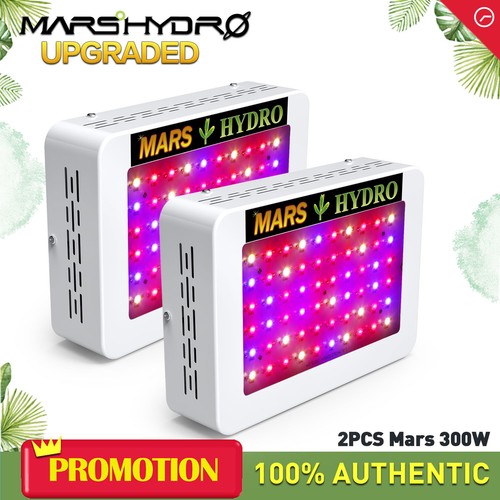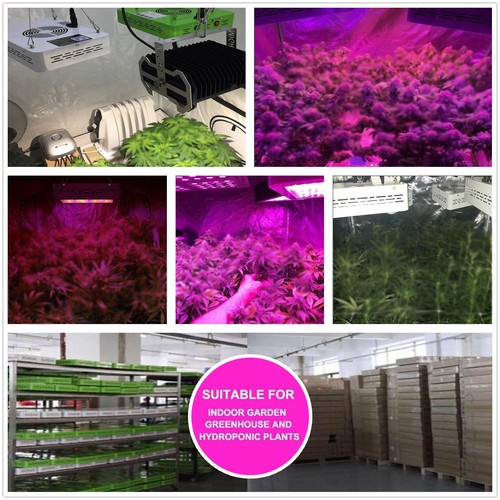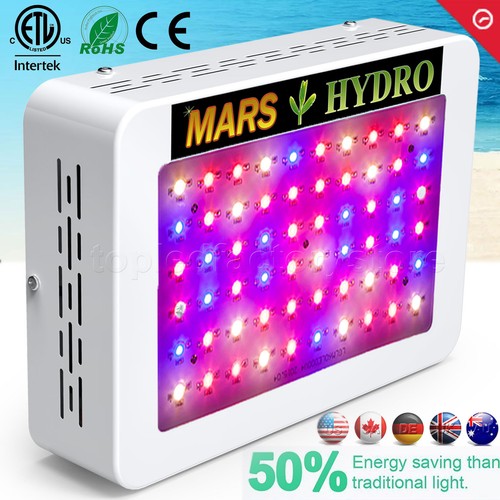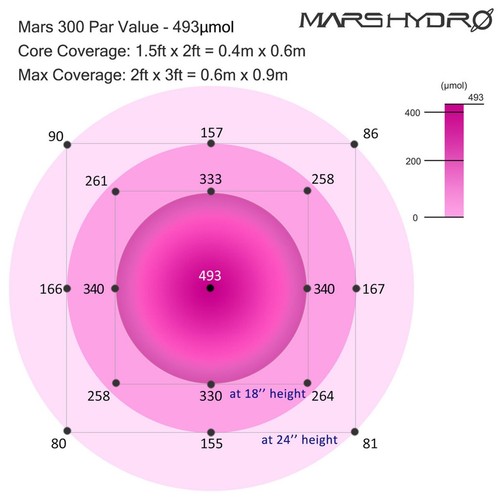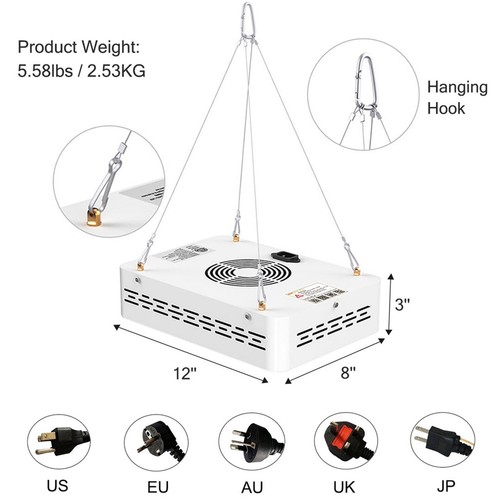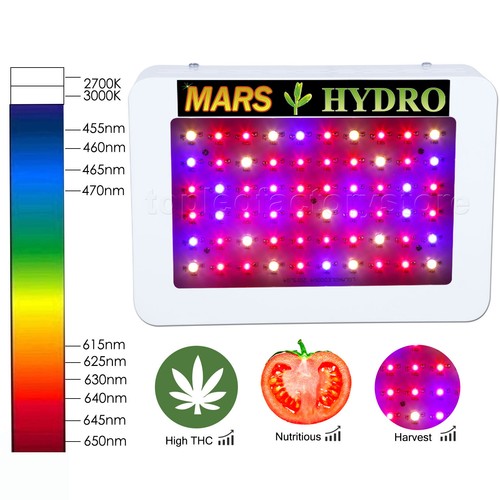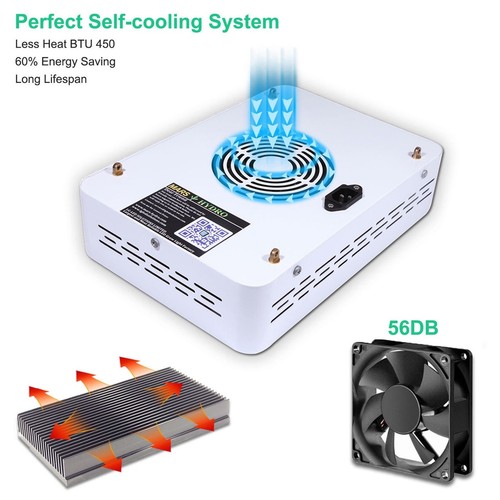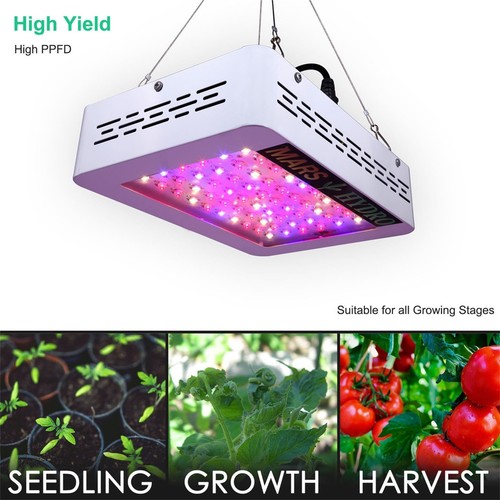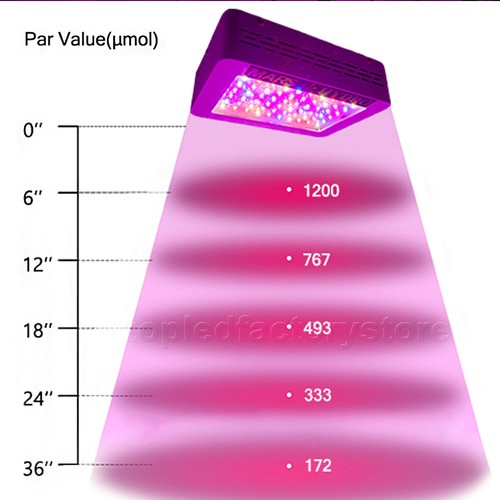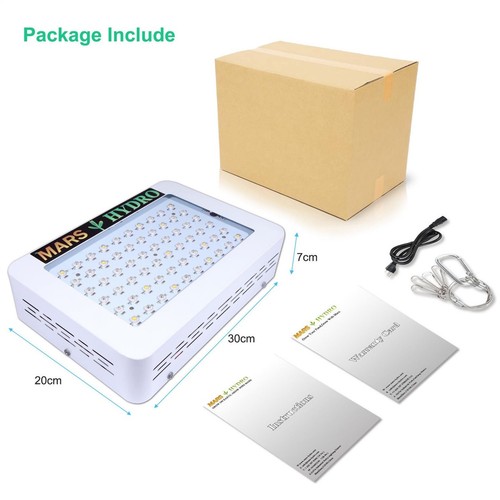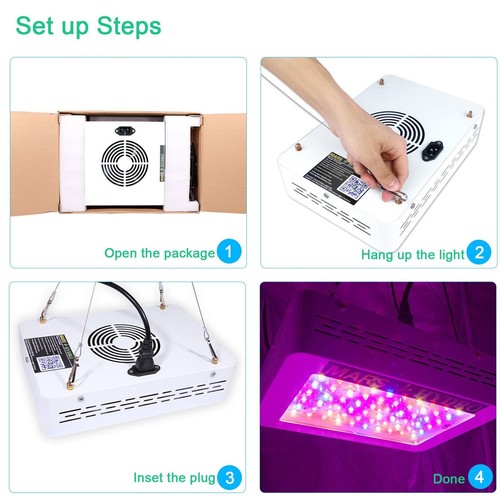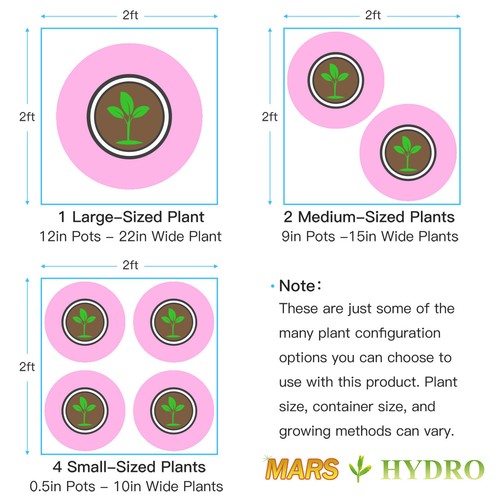 2PCS Mars Hydro 300W LED Grow Lights Full Spectrum Veg Bloom Indoor for Plants
---
Description
A chart of Mars Hydro LED Grow Light and Indoor Grow Tent Kit
Mars Pro II LED Grow Light
Model Number

True Watts(±10%)
Par Value
Lumen

HPS/HID
Core Coverage
Max Coverage
IR
Switches
Indoor Grow Tent Kit

Pro II 400W
175W
421umols
5002lm
400W

2.5'x2.5'=0.7x0.7m
3.5'x3.5'=1x1m
1
VEG Bloom
Pro II 600W
270W
524umols
6572lm
600W

3'x2.5'=0.9x0.7m
5.5'x3.5'=1.6x1m
2
VEG Bloom
Pro II 800W
386W
1018umols
12817lm
800W

4'x2'=1.2x0.6m
6.5'x3.5'=2x1m
2
VEG Bloom
Pro II 1600W
750W
1845umols
32716lm

1000W

4.5'x4.5'=1.3x1.3m
6.5'x6.5'=2x2m
4
VEG Bloom
Cree 600W
340W
1400umols
20047lm
600W

4'x2'=1.2x0.6m
6.5'x3.5'=2x1m
-
VEG Bloom
Cree 1200W
660W
2075umols
44377lm
1000W

4.5'x4.5'=1.3x1.3m
6.5'x6.5'=2x2m
-
VEG Bloom

Cree COB 300W
135W
531umols
8615lm
300W
2.5' x 2.5'=0.7x0.7m
3' x 3'=0.9x0.9m
-
VEG Bloom
Mars II LED Grow Light
Mars ECO 300W
135W
450umols
3334lm

250W

1.7'x1.7'=0.5x0.5m
3.5'x3.5'=1x1m
1
NO/OFF+Daisy-Chain
Mars ECO 600W
265W
660umols
6827lm
600W
3'x2'=0.9x0.6m
5.5'x3.5'=1.6x1m
2
NO/OFF+Daisy-Chain
Mars II 400W
188W
752umols
8914lm
400W
2.5'x2.5'=0.7x0.7m
4.5'x4.5'=1.3x1.3m
2
VEG Bloom+Daisy-Chain
Mars II 900W
420W
1240umols
20108lm
800W

3.5'x3.5'=1x1m
5.5'x5.5'=1.6x1.6m
4
VEG Bloom+Daisy-Chain
Mars II 1600W
749W
1735umols
44678lm
1000W

4.5'x4.5'=1.3x1.3m
6.5'x6.5'=2x2m
4
VEG Bloom
Mars Reflector LED Grow Light
Reflector 240W
102W
477umols
4523lm
250W

2'x2'=0.6x0.6m
3.5'x3.5'=1x1m
1
VEG Bloom
Reflector 480W
210W
680umols
9040lm
450W

3'x2'=0.9x0.6m
3.5'x2.5'=1x0.7m
2
VEG Bloom
Reflector 720W
317W
873umols
13789lm
600W

4'x2'=1.2x0.6m
7.5'x3.5'=2.2x1m
3
VEG Bloom
Reflector 960W
420W
1200umols
21981lm
1000W

4'x4'=1.2x1.2m
5.5'x5.5'=1.6x1.6m
4
VEG Bloom

Mars Classic LED Grow Light

Mars 300W
140W
493umols
5911lm
250W

2'x1.5'=0.6x0.4m
3'x2.5'=0.9x0.7m
-
NO
Mars 600W
278W
980umols
12631lm
600W

2.5'x2'=0.7x0.6m
4'x3'=1.2x0.9m
-
NO
2PCS Mars 300W LED Grow Light Hydro Full Spectrum Veg Flower Indoor Plant Lamp Panel
Feature:
High Cost-Effictive High Efficiency

Feature afford price with energy-saving. Save 80% energy compared with HPS/HID.Beat HPS/HID and traditional LED Light.Covers a full 2' x 1.5' ,easily replace a 250W HPS or HID.Suitable for 70*70*160cm grow tent.

Marvelous Intensity and Fast Discreet Packaging

Upgraded to Powerful High efficiency & Intensity 5W Epistar chips,Quality Leds with Proven Results from Worldwide Growers. Discreet packaging, protect your privacy!

Best VEG-BLOOM Full Spectrum

Special ratios of Blue/Red/White Spectrum which based on 9 years of research and testing can be fully absorbed by the plant to photosynthesis,Best for fast growth and high yield and make sure a high THC in harvest.

Minimum Heat, Maximum Growth

Keeping heat off plants is essential.By using self-cooling aluminum and a unique heat sink design to maximize heat dissipation area, the LED maintains a cooler temperature even after 24 hours of continuous use.

Quality Parts-Not Jelly Bulit,Safe to use!

Light pass Strict quality standard. ETL, UL, CE, RoHS, SAA, PSE cetificate.Stronger hanging kits are available for easy installation. 100% Safe to use, zero risk!no worry of fire or security threat,long-life.Local repair center in US/Canada/Germany/UK/Australia. We are capable of offering domestic warranty for worldwide growers.

High Par Value and High Lumen

High par value(photosynthetically active radiation)ensured high light absorption of plants to maximize the plant growth and harvest. Higher lumen and long lifespan ensured.
2pcs Mars Hydro 300W LED Grow Light Full Spectrum Veg Flower Indoor Plant Lamp Panel
Specifications:

Model: 2pcs Mars 300W LED Grow Light ( The power draw is more than dishonest 1000W which high power but low power consumption.)
Feature: Big Harvest,Higher Quality,Less Heat!Optimal Coverage
Replaces HPS/HID/MH: 250 W more energy-saving
Product Dimensions(L/W/H): 12''×8''×3''=30×20×7 cm
Net Weight: 5.58lbs/2.53KG
Full Spectrum(12 Band ): White, 430~440nm, 450~475nm, 620~630nm, 650~670nm,Best Spectrum for all stages of plant growth and Bloom
Avg.Recommend Core Coverage: 2.5'×2'=76x60cm(Veg)
Avg.Recommend Core Coverage: 2'×1.5'=60x45cm (Bloom)
Avg.Max Coverage: 3x2.5ft=92x76cm
Actual Wattage(±10%) for each Unit: 110V: 140W, 220V: 135W
(60PCS) High efficiency 5W Epistar (HI-LED) High Intensity
Amp: 1.10A/110v; 0.59A/220v
Suitable Voltage: AC85~265V
High Par at 18": 493umols
Lumen: 5911 LM
Noise Level: 56 DB
Operating Temperature: -20℃~40℃(4℉~104℉)
Lens View Angle: 90°/120° Mixed
Lifespan: 100,000 hours
Can be controlled by Timer
Warranty: 3 Years US/UK/CA/DE/EU/AU warranty+30 days return guarantee

Please Note:

Local Repair center + warehouse in US/Canada/AU/UK/DE/Russia,Warranty and Quality are guaranteed.
Fast Local Discreet Shipment,No customs, no taxes,no VAT for US/Canada/AU/UK/DE/EU buyers!
Certificate of plug:100% Safe to use(UL,BS,DVE,SAA,PSE,Approvel).
Please read full specifications and pay attention to Power draw instead of output power before buying.
Package includes

2 x Mars 300W LED Grow Light
2 x 6.6ft Free Power cord with Plug(US, EU, UK, AU, Canada Japan plug)
2 set x Free Steel hanging kits.(Easy installation)
This listing is for 2 pcs LED Light Panel,you will get 2 lights.
Fast Discreet package guaranteed,protect your privacy!
Compare Our Mars Hydro LED Grow Light with Other LED Grow Light

Application:Seeding / breeding/ Veg/ flower/For all planting stages/herbs/medical,meat plant etc
Quality Control System
Store Policy
ALL the item are direct from Mars Hydro factory which is a led grow light manufacturer since 2009, NO.1 LED grow light supplier.we have our own researching, designing, developing,producing and testing team to support our great product. 100% authentic Mars Hydro led light.
100% Authentic Factory:Mars Hydro, the brand, may be well known by most growers. However, they may not know the company name of Mars is actually ¨LG LED Solutions Limited.
Warranty is guaranteed: 5 warehouse+Repair center :US/Canada/EU/UK/AU warehouse& repair center.Local fast Discreet shipping.No customs.No Vat.After-sale service guarantee.
Quality is guaranteed:All our lights are built with World-class LED chips, high-efficiency drivers, advanced fans and upgraded aluminum cooling heat sinks ensure reliability and safety.
We accept payment by PayPal only. Please make payment within 7 days for eBay will open UNPAID dispute in eighth day.
If you don't need it, please inform us within 7 days too.
US/Canada/DE/UK/EU/AU warehouse available. no custom tax&Vat are needed.Po. BOX Not Acceptable.UPS/FedEx/CanadaPost/DHL/ RoyalMail/Yodel/AU Post are usually used for shipment.
We ship daily Monday - Friday. All orders will be shipped within one working day after payment.
Tracking number will be upload on ebay within 24 hours after shipment.
Normally Delivery Time: 2-7 working days for US/UK/DE/AU/Canada buyers from local Warehouse.2-8 working days for European buyers.
Buyer needs to pay possible duty fees if shipping is from China.Remote Area may charge extra postage. Shipping and handling rate is fixed and non-refundable.
We want our buyers than to be 100% happy with their purchase, and we need your valuable 5-star

POSITIVE FEEDBACK

to encourage us to do better.
Please don't give us neutral and negative feedback before contact us. Don't forget that good communication can solve all problems.O(∩_∩)O
We provide 3-year warranty on parts under normal use.All products is 100% original and come with a manufacturer warranty.All Mars Hydro lights have been carefully inspected before shipment.If there is any quality issue, Picture of the problem must be needed for warranty application.
A: Within warranty, we send you free replacement parts and instruction video for repair or you can return it to our repair center for repair.Either way is okay.
B: Out of warranty, we can still offer replacement parts and repair center service. but buyer pay for the fee of parts and shipping fee For More details, please contact us. Topledfactorystore will always try our best to solve the problem for you.
1.Are these items authentic Mars Hydro?
Re:Yes,they are 100% real and authentic of Mars hydro.We directly get them from factory with excellent quality and competitive price more than 7 Years.
2.I live in Europe, will this light work here?
Re:We have warehouse and repair center in US/Canada/UK/DE/AU.Worldwide voltage (85v-265v) is standard on all our LED lights. Customers in the UK will receive a UK power cord. Customers in Europe will receive an EU power cord. Customers in Australia will receive an AU power cord. Etc. If you are still concerned about power compatibility in your specific country, please contact us.
3.What can I grow with your led grow lights? Great for all stages?
Re:Mars lights are great for all types of plants such as tomatoes, lettuce, peppers, medical plant, herbs, bonsai, fruits, etc. Our lights can be used in all growing stages from seedling to veg to flowering and harvest.Application: Seeding / Breeding/ Veg/ Flower/For all planting stages / Green Vegs / Flower Plant / Fruit Plant / Herbs / Medical / Meat Plant /Hydroponics / Horticulture / Indoor plants / Greenhouse Lighting / Pot Culture / Farm / Water Soluble Breeding / Pipeline Cultivation/Exhibition / House Garden / Bonsai / Home / Commercial Crops / Project / Personal Growing / Urban and University Research ect.
4.What decide your harvest?
Re:Many factors will affect plants growing, like spectrum, PAR value, real power draw. Many growers say 30-50 watt per square foot is an ideal figure to get decent harvest when they grow medical plants.So please don't be mislead by high led power, but ignore the real power draw of led grow light.
5.For larger areas should I go with a single large panel or multiple medium to small lights?
Re:Using multiple lights allows you to better distribute the intense light in more areas of the grow space instead of having all of the higher intensity light concentrated in only one area while the outer edges never receive intense light.
6.1000W led light power with only 100W real power draw means energy saving?
Re:NO, it is a big misunderstanding! Don't forget that REAL POWER DRAW of the light decide harvest of your plants. If you find high led light power with low price, please think twice and check the real power draw of it.
Customer Reviews
---
Customer reviews
Average Customer Review
0 customer review/s
---
Related Products
---